BTTM FDRS (Hardcover)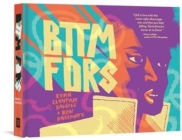 $24.99
Usually Ships in 1-5 Days
Staff Reviews
---
You know you're in for a sharp satire when the graphic novel you've picked up is bookended by a character defending Illuminati conspiracy theories and a white woman claiming the accolades of a traumatic experience from her black friend. Darla just moved into a newly-renovated building in an area of Chicago's south side affectionately dubbed the Bottomyards. Hoping to advance her career in fashion and somehow survive financially in the meantime, Darla ends up having to defend herself against not only the desperate attacks of a symbiotic monstrosity feeding off her apartment building, but the equally horrifying racial and class abuses of her friends, neighbors, and potential employers. Full of the wit expected of this incredible duo, BTTM FDRS is the perfect comic horror for our times. My recommendation, though? Don't read this on your lunch break.
— Destenie
Description
---
An Afrofuturist horror-comedy about gentrification, hip hop, and cultural appropriation.
Once a thriving working class neighborhood on Chicago's south side, the "Bottomyards" is now the definition of urban blight. When an aspiring fashion designer named Darla and her image-obsessed friend, Cynthia, descend upon the neighborhood in search of cheap rent, they soon discover something far more seductive and sinister lurking behind the walls of their new home. Like a cross between Jordan Peele's
Get Out
and John Carpenter's
The Thing
, Daniels and Passmore's
BTTM FDR
S (pronounced "bottomfeeders") offers a vision of horror that is gross and gory in all the right ways. At turns funny, scary, and thought provoking, it unflinchingly confronts the monsters—both metaphoric and real—that are displacing cultures in urban neighborhoods today.
About the Author
---
EZRA CLAYTAN DANIELS is the author of Upgrade Soul and winner of the 2017 Dwayne McDuffie Award for Diversity in Comics. He lives in Los Angeles, CA.

BEN PASSMORE is the author of Dayglo Ayhole and Your Black Friend, which was an Eisner nominee as well as a Dinky and Ignatz Award winner. He lives in Philadelphia, PA.
Praise For…
---
Passmore and Claytan Daniels teaming up is a dream combination.

I fell in love with this comic right about page one, and then just kept falling. The story is smart, the characters feel lively and real, and the art is moody and lovely. One hell of a winning recipe. Gentrification horror at its finest.
— Victor LaValle

BTTM FDRS is a brilliant meteor of a graphic novel, and I'm pretty sure when it comes into your life, you won't know what hit you. Vibrantly drawn and perfectly paced, this comic is as compelling to read as the story is necessary to hear. Simultaneously delivering visceral horror, cutting satire, and a nuanced interrogation of urban gentrification.

— Edie Fake

Daniels and Passmore bring their satirical acumen and sense of the macabre aspects of society to their first collaboration. The medium is the monster and the mastery of its use are utterly apparent in this powerful sequential manifesto.
— John Jennings

Creepy and charming, BTTM FDRS mashes up oozy, sick horror and dark, politically barbed comedy. It does all this with a cast of distinctive characters, funny, stinging dialogue, and moments of queasiness built around a body horror conceit: that of a building that literally gets inside your guts. It's one of a kind.

— Charles Hatfield

BTTM FDRS is a savvy, albeit grisly, comic urban monster story for the social media generation.


The brightly hued, visually compelling panels provide an electrifying feel to each page.

BTTM FDRS is a horror comic, an amplification of new voices, a meditation on trends in urbanization, a Goonies-type adventure, a look at female and cross-racial friendship, a beautiful visual examination of lumpiness and more, all moderated by a skeptical sense of humor.


BTTM FDRS drags up our culture's biggest, ugliest globs of unconscious sewage and spreads it across a white page for us to see and acknowledge.


A coy, gruesome satire of gentrification.

Passmore composes some very striking images, and a high-intensity color palette adds an extra pop to the linework.

Daniels and Passmore make horror feel vital again.

At turns funny, scary, and thought provoking, BTTM FDRS is a uniquely striking graphic novel that offers a vision of horror that is gross and gory in all the right ways.


Brilliant, striking, unique, compelling, and just a damn good read, BTTM FDRS is a triumph.


Gentrification horror and sociopolitical satire play out with sharpness in this visually brilliant thriller set in a fictional Chicago South Side community.

A savage Afrofuturistic horror comedy about gentrification, racial invisibility, and cultural appropriation in knock-your-eyes-out, 'non-literal' coloring.

Daniels and Passmore have created a funny, creepy, acid-toned satire about the horrors of gentrification.