The Bradbury Building: 1893 (Paperback)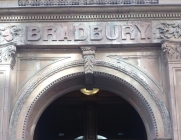 $35.00

Usually Ships in 1-5 Days
Description
---
An architectural gem from 1893 inspired the revitalization of a dormant downtown in Los Angeles in the 1990's.
The Bradbury Building is one of the most iconic buildings in Los Angeles, unlike any other office building of its time or since. This book is a tribute to not only the building's namesake and architect, but to Ira Yellin, the visionary developer who recognized the power of the building to change the perception of our older buildings from an earlier era. In addition to the Bradbury, Yellin purchased a cluster of key properties at the intersection of 3rd and Broadway (Grand Central Market with the offices above and the Million Dollar Theater). He engaged preservation architect, Brenda Levin, to sensitively restore them. The Bradbury Building is on the National Register Historic Places and is downtown Los Angeles' crown jewel.
Yellin's vision was that these "keystone" properties at the foot of "new" downtown - the modern office towers up on Bunker Hill - could reconnect downtown and its diverse citizenry via the revitalized Bradbury as the shining example.
The restoration of this building - perhaps the most beautiful - but certainly the most magical - marked the beginning of the re-imagining and revitalization of downtown Los Angeles in the 1990's.