Digging Up Insect Fossils (Library Binding)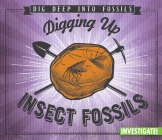 $25.27
Email or call for price.
Description
---
According to fossils that have been found, insects have been living on Earth for more than 400 million years. That means they were around before the dinosaurs and long before humans first walked on Earth. How do scientists know this? They study the different kinds of impressions left in rock from these amazing prehistoric creatures. Readers will view cool photographs of these finds, and learn about the different kinds of insect fossils, how they formed, and what we've learned from them.